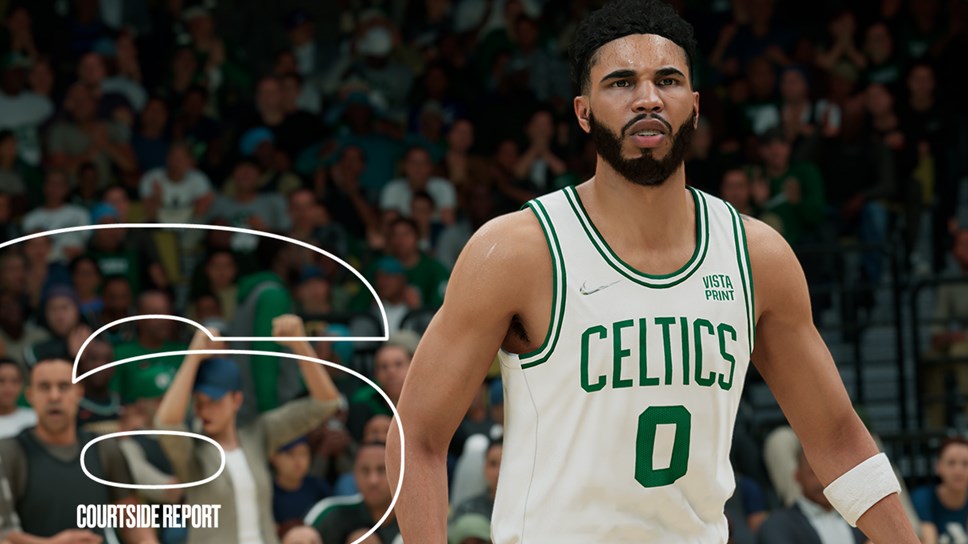 NBA® 2K22 Reveals All-New MyTEAM Updates
Players can dive into an all-new MyTEAM Draft, experience new challenges and rewards, earn Seasonal Player Reward Cards, and so much more
2K today revealed an in-depth look at the updates coming to MyTEAM in NBA® 2K22 that include a new multiplayer mode, MyTEAM Draft, and the upcoming $250,000 MyTEAM Unlimited Tournament* for players to compete in, with one track on PlayStation 4/Xbox One consoles and another track on the PlayStation 5/Xbox Series X|S consoles.
NBA 2K22 MyTEAM top updates include:
MyTEAM Draft: Offers a new multiplayer mode where players pick a full lineup of Player Cards. Every Draft will net players a guaranteed League Pack and at least a single pick on a Draft-exclusive Ascension;
Triple Threat Online: The 100 is a new take on the 3-on-3 mode where great defense earns players even more rewards;
Season 1: Call to Ball: Earn new Seasonal Player Reward Cards, such as a Kobe Bryant 93-rated Free Agent card that will lead players' starting lineups or reach Level 40 to gain a Pink Diamond Carmelo Anthony;
Community Logos: Players who have received in-game verification will now have their logos appear next to their usernames in MyTEAM, with opportunities for players to gain this recognition throughout the year as chosen by the NBA 2K Community Team;
New challenges, agendas, rewards, events, and more player & team customization throughout the year.
For all the details on the new MyTEAM updates coming to NBA 2K22, check out the latest Courtside Report.
Progress players make on PlayStation 4 and Xbox One versions of NBA 2K22 will transfer to the PlayStation 5 and Xbox Series X|S versions within the same console family via dual-access. More information is available at the dual-access FAQ.
NBA 2K22 is currently scheduled for release on September 10 for PlayStation 5 and PlayStation 4, Xbox Series X|S and Xbox One, Nintendo Switch, and PC platforms. For more information, please visit the game's official website.
Developed by Visual Concepts, NBA 2K22 is rated E for Everyone from the ESRB.
Follow NBA 2K22 on TikTok, Instagram, Twitter, YouTube, and Facebook for the latest news.
Visual Concepts is a 2K studio. 2K is a wholly owned publishing label of Take-Two Interactive Software, Inc. (NASDAQ: TTWO).
* NBA® 2K22 MyTEAM Unlimited $250,000 Tournament:
ABBREVIATED RULES
Open to legal residents of the 50 United States & D.C. (excluding AZ, CT, MD, and ND), Canada (excluding Quebec), Australia, Chile, Denmark, France, Great Britain, Greece, Hong Kong, Republic of Ireland, Indonesia, Israel, Germany, Japan, Macau, Mexico, New Zealand, Norway, Philippines, Portugal, Singapore, South Africa, South Korea, Spain, Sweden, Switzerland, Taiwan, Thailand, and Turkey, who are at least 18 years of age and the age of majority in their state/country/province of residence. Void in AZ, CT, MD, ND, Quebec and where prohibited. Contest will consist of 2 separate tracks for PlayStation (PS) and Xbox entrants.
To participate, you must have NBA® 2K22 game ("Game"), Xbox Gold Service or PS Plus service, and Internet connection. Game must be played on PS4 and Xbox One for Track 1 and PS5 and Xbox X/S for Track 2. This Contest consists of: (i) the Pre-Qualifying Period; (ii) the GameDays; and (iii) the Tournament. You must qualify during the Pre-Qualifying Period to participate in the GameDays. The Pre-Qualifying Period begins on September 10, 2021 at 12:00:00 AM local time. The first GameDay takes place on October 16, 2021 and the last GameDay takes place on February 19, 2022. You must qualify for the Tournament, which is currently scheduled to take place on March 5, 2022 at 10:00 AM U.S. Pacific Time for Track 1 and on March 6, 2022 at 10:00 AM U.S. Pacific Time for Track 2.
Subject to the Official Rules, which will be posted at https://nba.2k.com/2k22/myteam-unlimited-tournament/. Sponsored by 2K Games, Inc. ("2K"), a wholly owned subsidiary of Take-Two Interactive Software, Inc., 10 Hamilton Landing, Novato, CA 94949, USA.
# # #